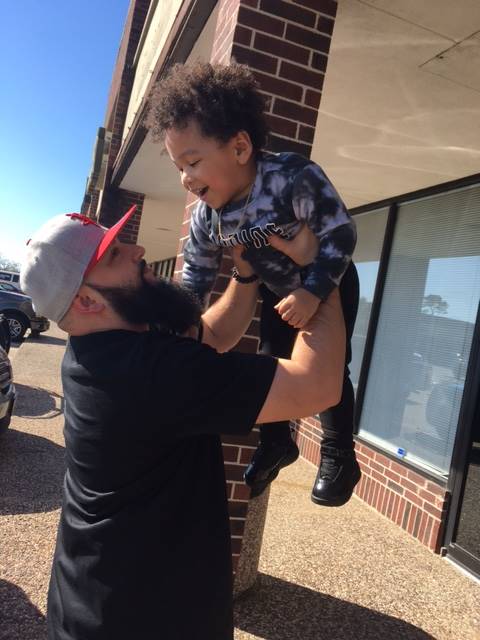 Preparing the next generation of fathers through a Fatherhood initiative: All Star Dad's
Preparing for Fatherhood with the All-Star-Dads program, gives dads the freedom to be authentic and ask hard questions. Our dads have the freedom to open up to each other as peers and listen to each other's struggles and perspective on fatherhood. Another way All-Star-Dads (ASD) supports men in fatherhood is by pairing new dads with a 'Coach'. An All-Star-Dad Coach is a trained male mentor who is a healthy role model and mentor to these new dads. The new dads are also able to encourage each other through the struggles of parenting, because let's face it, as rewarding as parenting is…it's also HARD!
Building Connection with Dad
Neuroscience teaches us when females get together and just simply talk they create an instant connection, they bond, thoughts and ideas begin to fire rapidly and all the feel good chemicals are released in their brains. The male brain is different. Fathers must being active before bonding occurs, engaged in an activity. With this in mind, our ASD start their 'Huddle' session (a team huddle is all the new dads and their Coaches together) with a physically engaging activity like a trip to Top Golf, a game of B-ball or a game of Corn Hole, etc. Then, they will have the break-out sessions to learn and finally meet one-on-one with their Coach.
Sadly, many All Star Dads report: no male influence in their lives at all or they had a neglectful or abusive experience with primary male in household.
With the ASD program fathers can have fun and talk about the hard stuff, get other men's perspective and learn to become an awesome father. Mentorship is priceless, especially for the new fathers that grew up without a dad or had a very poor experience with a dad.
Become a Fatherhood Mentor; an All Star Dad Coach
If you know of a Christian father, established and rooted in both fatherhood & relationship with Christ that would like to pour into the lives of new dads to help them walk the path of fatherhood email info@AnchorPoint.us. God is doing awesome things in this ministry! All ASD Coaches leave a living legacy by helping other men learn new skills and sharpen others. Coaches have an impact on the next generation of children that continues to have a positive ripple effect for generations to come. After all, the children of these All-Star-Dads are, in turn, better parents because of the influence you will have on their dad, grandpa, etc… That is awesome!